Published at Apr 4, 2023.
We're excited to announce a new feature release: the integration of IsDown with Datadog, a powerful addition to your cloud monitoring and SaaS monitoring toolkit. Datadog is a leading monitoring and analytics platform that provides full visibility into your infrastructure and applications. It allows you to track metrics, traces, and logs from various sources, giving you a comprehensive understanding of your environment's performance. This powerful combination enables you to monitor external outages for your third-party dependencies, all within the comprehensive Datadog platform. IsDown is a status page aggregator and outage monitoring tool that provides real-time monitoring and instant notifications for outages in your tools and cloud providers, covering more than 2500 status pages.
In this blog post, we'll walk you through the benefits of this integration, how to set it up, and how to uninstall it, should you ever need to. We'll also share examples of how businesses have benefited from this integration.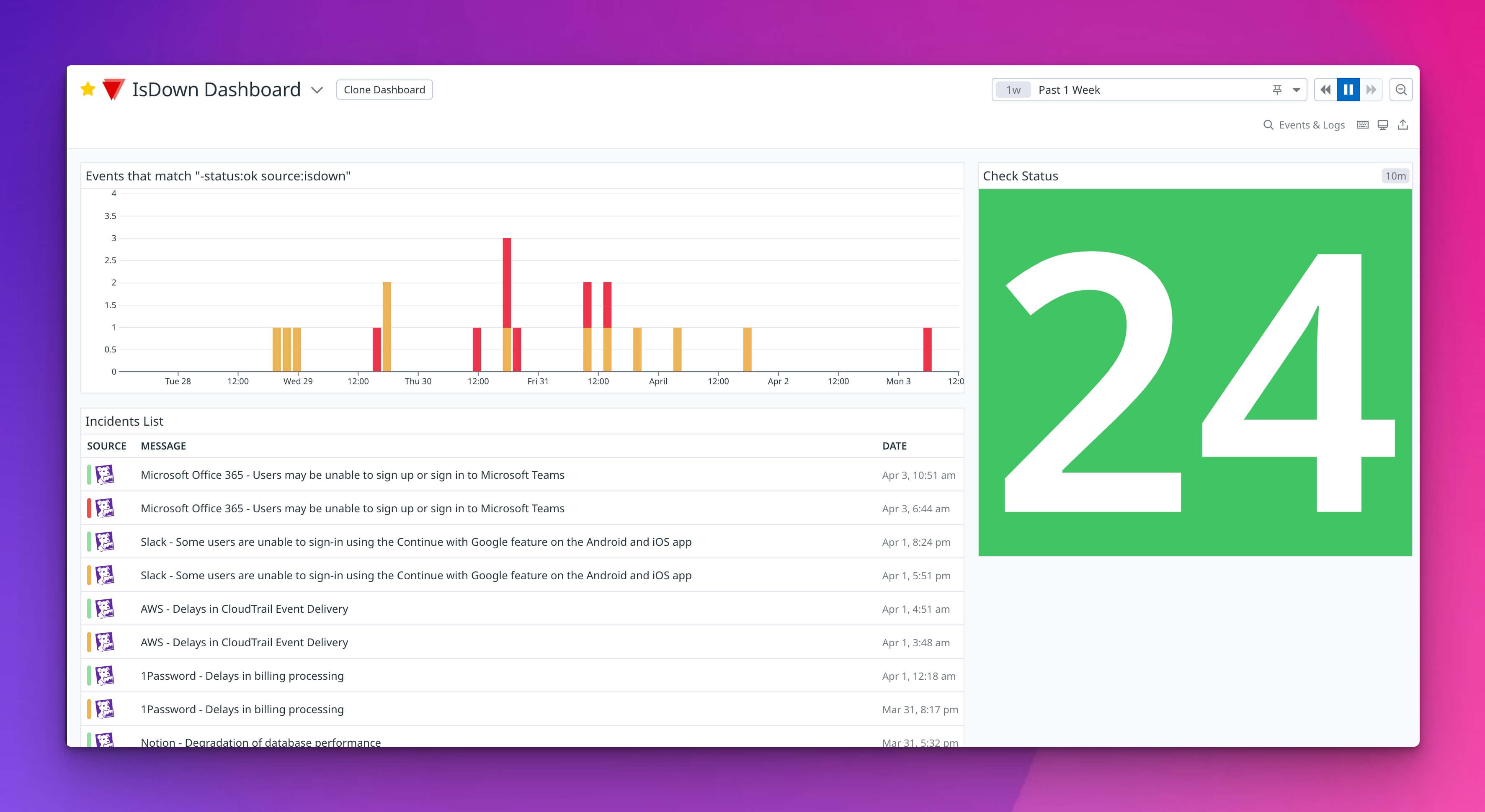 Benefits of the Integration
With the IsDown integration, you can:
Receive alerts from third-party dependencies in Datadog, such as cloud providers like AWS, Azure, and Google Cloud Platform, or SaaS providers like Salesforce and Slack.
Monitor business-critical services to ensure optimal performance, allowing you to identify trends and detect potential issues before they impact your users.
Gain insights into the frequency of outages and their potential impact on your business, enabling you to make data-driven decisions on infrastructure and service provider choices.
Examples
A growing e-commerce company relies on multiple SaaS tools and cloud providers to run its daily operations. By integrating IsDown with Datadog, they can now monitor the uptime of these crucial services, receive alerts when outages occur, and have better visibility into the overall health of their business infrastructure.
A fintech startup using Datadog for cloud monitoring can now also monitor third-party APIs that they depend on, such as payment gateways and identity verification services. This integration helps them ensure seamless transactions for their customers and maintain a high level of service quality.
Configuration
Setting up the IsDown integration is simple. Follow these steps:
Use your existing IsDown account or create a new one.
Log in to your account and navigate to the Notifications page.
Click on the checkbox to select Datadog and then click "Connect to Datadog."
You'll be redirected to Datadog to authorize the application. IsDown creates an API key with access limited to sending events and service checks to Datadog.
After authorization, you'll be redirected back to IsDown.
Select the services you want to monitor, such as cloud providers or SaaS applications.
Configure any desired notification settings for each service.
If you need to uninstall the integration, follow these steps:
Go to the Notifications page in IsDown.
Unselect Datadog and click "Save."
Ensure that all API keys associated with this integration have been disabled by searching for "IsDown" on the API Keys management page in Datadog.
Conclusion
The new IsDown integration with Datadog brings a whole new level of cloud monitoring and SaaS monitoring to your business, helping you stay ahead of potential issues and maintain seamless performance. Set up the integration today to start benefiting from real-time monitoring and instant notifications for outages in your third-party dependencies, all within the powerful Datadog platform. Enhance your cloud monitoring strategy and ensure your business-critical services remain up and running with the IsDown and Datadog integration.