[UPDATE] There's a new version of this integration. Can read it more here.
In this article, we will explain how you can monitor all your cloud service status pages in Datadog with the help of IsDown.
What is Datadog?
Datadog is a cloud-based hosted service that offers an easy way to monitor and visualize the performance of your entire cloud infrastructure. With Datadog, you can track key performance metrics for all your systems (like servers, databases, and much more). You can also view and trace errors, create custom alerts and dashboards, and do much more.
What is IsDown?
IsDown is a status page aggregator and outage monitoring tool for all your cloud services (IaaS, PaaS, SaaS, etc.). You can consolidate every status page of the several services in one place. You can also integrate with the tools you already use (Datadog, Slack, PagerDuty, Microsoft Teams) and get notifications right where it's important.
Datadog + IsDown
With Datadog, you are already monitoring everything internal to your infrastructure. When joining with IsDown, you will enable external monitoring backed with the official data of the status pages of the cloud services that your business depends on.
You'll have all the outage information in the form of events with tags so you can filter how you would like. With this, you will also be able to track the history of outages of your cloud services in Datadog.
There's also the option of a widget to have the current status of the services you monitor. We update it every minute.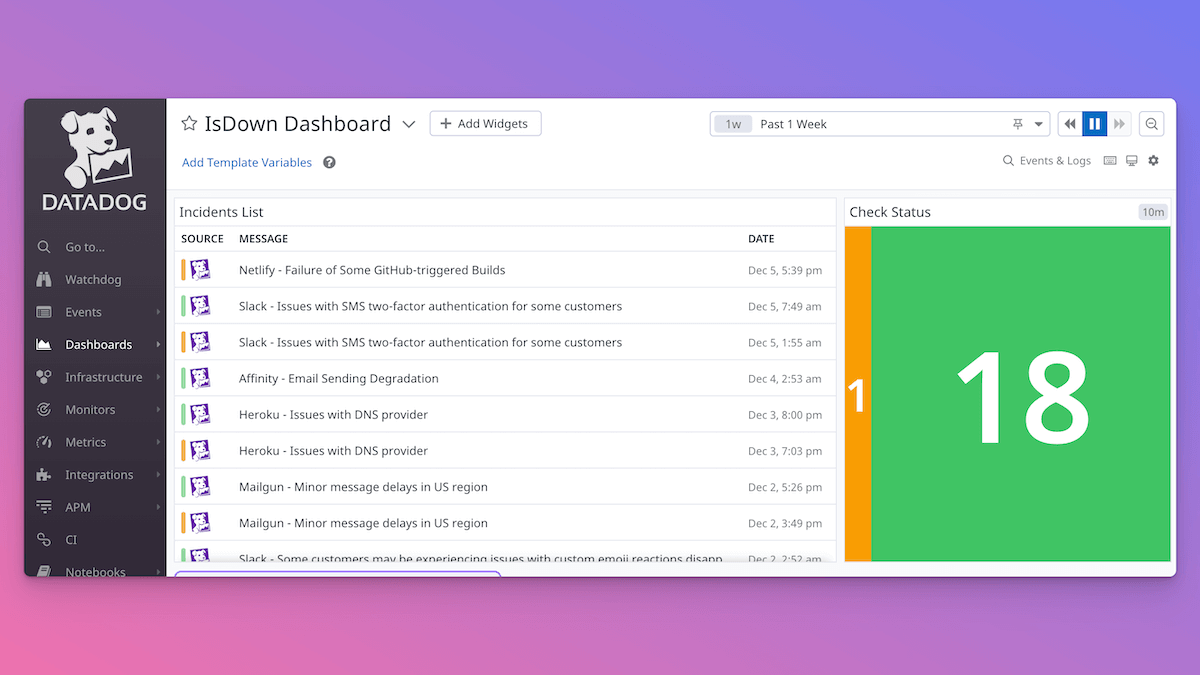 How can you connect IsDown to Datadog?
After creating an IsDown account, you need to start monitoring all the services you want to follow.
In the notifications screen, add your Datadog API key so we can start sending the events to your account.
In Datadog, you will need to create the widgets to add to your dashboards.
For the Outages List.
For the Check Status
Conclusion
With IsDown, you can add another layer of information to your monitoring stack via Datadog.
Increase the observability over your external dependencies allowing your team to react quickly to outages with information that could be important for solving the issue the fastest way possible. It will also enable you to provide a better support experience to your customers.
This feature is currently under private beta. Feel free to reach out if you want to try it out.